7 Proven Instructional Design Strategies - The Best and Most Effective Types of Instructional Design Strategies for eLearning
What instructional design strategies do you use in your eLearning development?
In this post you will learn about seven strategies to help instructional designers address the individual and unique needs of online learners.


1. Scenario-Based Learning
Scenario-based learning is an excellent instructional strategy that help improve learner engagement, immersing the learners in real life or situational learning experiences.
Delivering content in contextual settings provides learners with opportunities to develop skills or information that they can not transfer into future real life situations.
Scenario-based learning is an eLearning strategy that is great for soft skills training.
It is often used for training that requires social interaction, critical thinking, situational awareness, and decision-making and is a great option when it comes to role-playing scenarios.
It is also a good tool for introverts who don't particularly enjoy acting things out in a group.
2. Infographics
An infographic is a visual image such as a chart or diagram used to represent information or data. Their purpose is to collect and organize data, creating an easy-to-understand visual.
The visuals within an infographic are chosen thoughtfully and systematically to tell a specific story.
The goal of an infographic is to guide the learner through the information in a logical sequence but not to overwhelm them with ton of facts and figures.
They are easy to understand.
They show your expertise.
They help eliminate unnecessary details.
They help relate concepts.
3. Guided Learning
When designing guided eLearning content, an avatar or mentor offers helpful hints throughout the learning process.
This type of learning is a great way to share more information with the learner without adding slides or bullet points.
In addition, the use of avatar can always be optional.
4. Self-Directed Learning
In self-directed learning, the learner chooses a journey or path through the course content.
In this eLearning strategy, the learner creates a sense of autonomy, which is a great tool for intrinsic motivation.
The learner is able to complete the course in the order they prefer, taking away the monotony of simply viewing a sequence of slides.
5. Simulations
Simulations help learners understand new software programs by following the method, "Watch, try, do":


Watch
The learner sees how to perform a task on screen


Try
The learner practices by interacting with a mockup of the program with hints displayed


Do
The learner uses the software alone


This type of learning provides the learner with a gradual release of control or scaffolding.


6. Storytelling
Storytelling is one of the most effective way to convey content in eLearning by getting the learners to care more deeply about the information and is a vital tool for learner engagement.
The technique makes the content more relatable, helping you establish a genuine connection, while increasing engagement and comprehension.
A story can be the hook that draws in attention and evokes emotion in the learner. This type of eLearning strategy often goes hand-in-hand with scenarios; scenarios are just different points in the story.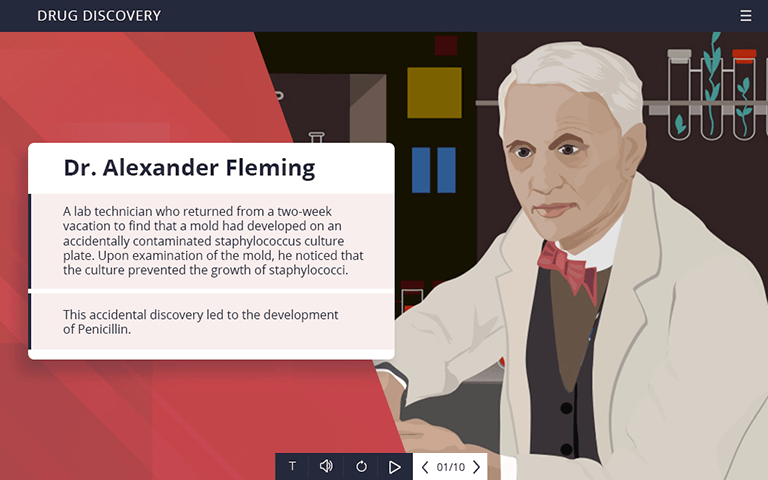 Storytelling can make typically boring and dry content more interesting and important for the learner.
Story has, is, and will continue to serve multiple functions in the learning process.
Stories engage learners and provide a system for organizing knowledge into meaningful chunks to aid in recall.
Given that learners of all ages are attracted to good stories, and they provide such good intstructable moments, integrating them into multiple areas of training and instruction certainly makes sense in certain circumstances.
7. Case Studies and Examples
Case studies and examples help online learners relate to the subject matter and see how it ties into real world situations.
They are also good for designing instruction for more complex knowledge and experiences.
They are necessary to ensure that learners are able to make sense of illustrated concepts.
Specifically in an eLearning course, it is essential to ensure that the examples and case studies that you provide to your learners aren't just text blocks thrown onto a page.
It is important that you create the content so that it is interactive and engaging for the online learners. Otherwise they will get bored and not even review it.


Case Studies
Case studies contain features such as facts, stats, and first person accounts that are supported by reliable sources.
They are hypothetical situations that are based in reality. eLearning case studies drive the point home so that online learners connect with the content on a personal level.
However, it is important to ensure that you add interactive elements to your eLearning case studies in order to boost active participation.


Examples
Examples can be used both deductively and inductively. Deductive examples illustrate a concept or show the steps of a procedure that was previously introduced. Whereas, inductive examples stimulate thinking and reflection prior to providing definitions and principles.
Examples are important because they help bridge the gap between theory and practice.
Examples can be given on how to accomplish a task along with an explanation of the underlying principle, followed by questions about the examples to stimulate the learners' reflection and prepare them for assessment.
JOIN THE
eLearning and Instructional Design for Beginners Community 
In-depth courses & training
Access my rapidly growing library, attend monthly live training & accountability support groups
Exclusive tools & members-only discounts

Tools, templates, downloads, checklists and more - plus receive special perks & discounts

Supportive community & network
Feedback and support from fellow instructional designers, career-driven business owners, and experts who will keep you on track
FIND OUT MORE
Get Your Software Toolkit for Instructional Designers
Tools & processes that will help you plan, build, and grow your instructional design career and freelance business.